Refurbished Villa for sale in Nagüeles, Marbella, Malaga, Costa del Sol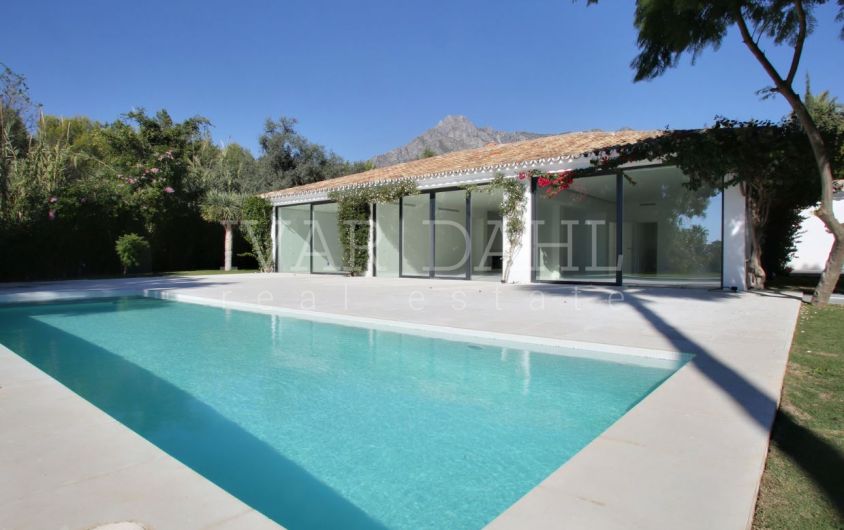 //media.inmobalia.com/imgV1/B8vEv5Xh8DZJ8zA8HsKlVQQovHvPS2nS1REiasNjjf37J7WfKOkiQxSIhRrnU2OBFkknCXNFUkYS7Hh9o9IZ_QJ9eIkyovPRCzAtVjdWaQFeEeOEQRfVqsbnu83D05GpFx~hwckDh0PCu76391zl7P4w3AzVMsB13lQDsiEXKqPmU2pa9VuRD56KYJ58GPLbY4f4VL4ZEeWypS0~wScqeoLcCimkIblW~najG06ZfYIsDaqeZBOr9TU6ZXz0fP9e~6PSFiqXfh4mE5uaHV80OuBKIuCpjLZXmDrj404cxsWlQ3FMTA_R9fMGWos_J~mz4qw-.jpg
//media.inmobalia.com/imgV1/B8vEv5Xh8DZJ8zA8HsKlVQQovHvPS2nS1REiasNjjf37J7WfKOkiQxSIhRrnU2OBFkknCXNFUkYS7Hh9o9IZ_QJ9eIkyovPRCzAtVmNd~TAdL1bZDGuYlmRPdreiR1I6ziQ2yb19erAVBB4l3i_uxp9~SLef~jQtjuso8IppIcfUiAXlH_HT5kWpXbCabizSEPf8nRfHOHJlQ4gdiYRZIiW1stPfDDJBmPI4cJcbrWK6GIGG0Jk3VOCp2AixfzVIndfc9l3noj05vJ_S_O4NmHab0T1iAqg14ckFYSU8os~0OALPuywa4sYo8Rs_yTFDGJI-.jpg
//media.inmobalia.com/imgV1/B8vEv5Xh8DZJ8zA8HsKlVQQovHvPS2nS1REiasNjjf37J7WfKOkiQxSIhRrnU2OBFkknCXNFUkYS7Hh9o9IZ_QJ9eIkyovPRCzAtVmByNCeMYMPhtYutXLIJRnqbDww9lhClHZkGne_Pckxb~8vn3ipfRzPDhPQafsjOgdQj9oBeTQsJCK82tG2N8cjjMuTzwPQDLYwB~BLvrEHL5qoreHtiYBxpfv3NG2h2EcIskQ2RNsgiQB1N2gXC9obNUQbkxnF_up7RBD2a8A3b4Q_U1ATnVcOuXQbzpswV9sW6Sr7U4IXvto4Cr937Zzv2SpktxLw-.jpg
//media.inmobalia.com/imgV1/B8vEv5Xh8DZJ8zA8HsKlVQQovHvPS2nS1REiasNjjf37J7WfKOkiQxSIhRrnU2OBFkknCXNFUkYS7Hh9o9IZ_QJ9eIkyovPRCzAtVjRF8PoMY_dhvvC9Ess14aAcMZ1XLE7w1kN0QsAzC8wJ59bYB6qUNy88aKz9St~ZFfd~U~xoXsmN3r6EWLWcAPB2gd2aT7_l4APlHd9HSmPM7OwGZcE6kRUmcdT~tjJJYzj5wwpbTeQE37ibrexMmCBatMsl2bhTgfeUkyv6rb_eZciJoE34lqLu~ztTGqeb69GQ6xcyck1Nd2NUXuqaXWwuqmLrxeU-.jpg
//media.inmobalia.com/imgV1/B8vEv5Xh8DZJ8zA8HsKlVQQovHvPS2nS1REiasNjjf37J7WfKOkiQxSIhRrnU2OBFkknCXNFUkYS7Hh9o9IZ_QJ9eIkyovPRCzAtVjI20tuw59ML6m4v9hp2PlyRRw3wPFD2CPzdAC80s_c_tw0c0psG9HsMN6~zaCXHBc7L0~xqAPzVNEczfkf5FFFUe~hfZQlp9MbLZYM8nbboNZOpCauJk07LcYqQESSJsSZ04CRpNNqkujwPh6LjCWbfnWvpNEMt0EnvTOaMjG5aYysuPxcDJGOS1UFlLA6zkopISknG5bHHwXHYi1a8XLhdv8Qq25Q-.jpg
//media.inmobalia.com/imgV1/B8vEv5Xh8DZJ8zA8HsKlVQQovHvPS2nS1REiasNjjf37J7WfKOkiQxSIhRrnU2OBFkknCXNFUkYS7Hh9o9IZ_QJ9eIkyovPRCzAtVjbedC01jFDaMExM0BmLgRwoQrFnqcmSELQnacHA~R55NCWrs4JFdGZZCO7P3zOE_OxFZptUOR3asQoImU7HdxrGB3f1oc_Rk8MXK9syq9Wy6CLp273FMT941sgCK0vafZP~pWkv8YSuVaB6udaYuhQ343GhqPdEULbW2DGCkjlfDBZDhldvJKA8_Vbc1EMVvZnm6InKnybUAc_hTDmsdxhdL4Otd58-.jpg
//media.inmobalia.com/imgV1/B8vEv5Xh8DZJ8zA8HsKlVQQovHvPS2nS1REiasNjjf37J7WfKOkiQxSIhRrnU2OBFkknCXNFUkYS7Hh9o9IZ_QJ9eIkyovPRCzAtVjIxAzPt_XZUjLAviSWgNC3Kst352VH5scdZzY6dwbWGesoqLFqRo8Glp17tRNmhd6hxxevKE2A6v1fMHgjnX6hJPSraJV~jD~Om2WN_jVJZvHwd1uxeFsFuU1nkOehlofWjksfXFHDwpvgt9gfID844c~I0AJyjeWFlvWrNRzCoQsLp9UgzECfYvcFdCGb29Ee1bK5LWydkr5aWYqTTILqcs90uCrQ-.jpg
//media.inmobalia.com/imgV1/B8vEv5Xh8DZJ8zA8HsKlVQQovHvPS2nS1REiasNjjf37J7WfKOkiQxSIhRrnU2OBFkknCXNFUkYS7Hh9o9IZ_QJ9eIkyovPRCzAtVmJ3de9ygOLfB6tJQ_vk4WT27mHiT3wWRDfMPEqvxEW6rKjHfuSALLoTKKKpNKjMxmyb7xg8ZMoXJeOXAXR3IC~IgcEdbOpkP0tqbhzLekAuF1mS~dLfmxTk_Wj1B7eqhF2tDUbyJiq9HZ_efciVyRHa55arkgTLyjJtaokhO84mr3QlFZZTOegQES7FnAoFfiI42HkNWxQspkmU9bIh7j7EXMJTM48-.jpg
//media.inmobalia.com/imgV1/B8vEv5Xh8DZJ8zA8HsKlVQQovHvPS2nS1REiasNjjf37J7WfKOkiQxSIhRrnU2OBFkknCXNFUkYS7Hh9o9IZ_QJ9eIkyovPRCzAtVjCM1tpbyViXNJsfrHIuTchvWcUF~9iyMtRYy3W4ZR8jnH5qppNaN0voMWPgUh53pPVaoLOS8jSyWqRbAoiVDJnXlIfZ7_MlLLuqLZKSB~7ooi8Hg5sNY~Werfku~NRzajBkkgWD8bvdlf6S52X27Sr7ZLS4ykQAXylHWlXCcXTYsIsv6wvMtH987UrpjRkKzQwJeaR0bfkIbUONYPUn8VdfGO_XhO4-.jpg
//media.inmobalia.com/imgV1/B8vEv5Xh8DZJ8zA8HsKlVQQovHvPS2nS1REiasNjjf37J7WfKOkiQxSIhRrnU2OBFkknCXNFUkYS7Hh9o9IZ_QJ9eIkyovPRCzAtVjMJHpRLlAC~lmDpcGJGqXrTNRdc9vSLXuj4Hcq38NWIJyWoJF2FsOcIvoYA~ivVEYAM256qzh6oZd~t4ZC46__brO4kjvkvTG_rKtOU6ON1mQS0F8bwWaBl_eH_OI05cIjMbspjX0YrdMUaTIjhmr809RP3b4pEf8ScDdHbMDM_Gvyz6Ba2oTxB4ddVDhJ8A4fXoNbHPdYkwKCr1UOpD7L_RQlja0I-.jpg
//media.inmobalia.com/imgV1/B8vEv5Xh8DZJ8zA8HsKlVQQovHvPS2nS1REiasNjjf37J7WfKOkiQxSIhRrnU2OBFkknCXNFUkYS7Hh9o9IZ_QJ9eIkyovPRCzAtVmJyGPwBFMeli_fudWJsPN7pBieGSJBIQen0~XqFIbPhsi4_h3jxZ~Pebvj1~MMwUxAqRQWZEXHnKv0Mf0qpza8jxgQ8I5AJHGxPeiqpyql9vd7emAE~ztsOYj79LzxEQ1Qqwj5shcL1UhVmvJpZD~xhdqPUtm1d2um~VAWgwoFwNfOtdD9wEj_W2iEwZiJBGUydB87_QUg7TEbGW1ismMe1AW9cBG0-.jpg
//media.inmobalia.com/imgV1/B8vEv5Xh8DZJ8zA8HsKlVQQovHvPS2nS1REiasNjjf37J7WfKOkiQxSIhRrnU2OBFkknCXNFUkYS7Hh9o9IZ_QJ9eIkyovPRCzAtVmT1MWeHx6wKGaHhzjcJbauXQworTzXxXLIvboa0UPXYtxrxjaCESVeKTFb5yFUwqu~V8s5TFeSbw2vdyBYXs3V~LKFTUdO3aQRHvi_Xc6aQftAIw1jhktBAssNoHTyLWgQkgbSzZ022EQjYPtgCDeLqgsYBMhEbp4mnj_bHbAjFg3y4KzDlQ3y~C3sJKUgl5Z8qn7ISo~SpWbht~DvaUvw5jkQZN1g-.jpg
//media.inmobalia.com/imgV1/B8vEv5Xh8DZJ8zA8HsKlVQQovHvPS2nS1REiasNjjf37J7WfKOkiQxSIhRrnU2OBFkknCXNFUkYS7Hh9o9IZ_QJ9eIkyovPRCzAtVjcP2KQ2HT2Ny~TRAVZonan5nySDko24ZiqRjTiOj8YFzEldgw4lt1iIt9_sa1QiFzAJC0K_mL5kR~4QawP9up6oV0TswiL5N4y9V0cJrQAEpqZJwxiiidnjwEbEwdMv_fNwTDfFtDsquSPYRWbwEHOHLuE3m_VQO4XrgqFFj6iOfQ_BI1G8TtYBKI5v9WtGCRTzl3My3ump823dDTPFjgCZb6TyNfE-.jpg
//media.inmobalia.com/imgV1/B8vEv5Xh8DZJ8zA8HsKlVQQovHvPS2nS1REiasNjjf37J7WfKOkiQxSIhRrnU2OBFkknCXNFUkYS7Hh9o9IZ_QJ9eIkyovPRCzAtVjbflXyTwLeOSYICKWlZ89PWR0M~h5vdJrSf~RF8AV8pv7ea8LXh6eAx0veoEpdzUgv5MWwLmQFzX21THTTNd9xmwzKcMKHtO1Wd0euZIZtfdZUFmvzMx~GQOhWr2gOGgJlF2r9P3von8fVQLLqAzh8Od_F51PX6tHi5PkPosIqWNmn79hIGIMMSK~l2rrmaS4jLWRCKJ9vL8dhc4DjGf5E6n6jCxUw-.jpg
//media.inmobalia.com/imgV1/B8vEv5Xh8DZJ8zA8HsKlVQQovHvPS2nS1REiasNjjf37J7WfKOkiQxSIhRrnU2OBFkknCXNFUkYS7Hh9o9IZ_QJ9eIkyovPRCzAtVmSvpJGOOMlMxhKxSJlRI~5fzrbKkcyEpBWqlrFuHeNIKzLdmakqoIoJIEmgUuHTliwEcAnP1o5VxTy0Cf1KhHaPDQBv~bE5CGCyhSwj6gUIA7a_uhsNWFORHSEOdDRKh6~yVcLB382crrqBVYMD02w2RYjV7PIu5D4UNoEzFceFZxo4mLhHWB7pEgPec68hnKomzme~xAX_EkNjeNrY8mn80LRlsRc-.jpg
//media.inmobalia.com/imgV1/B8vEv5Xh8DZJ8zA8HsKlVQQovHvPS2nS1REiasNjjf37J7WfKOkiQxSIhRrnU2OBFkknCXNFUkYS7Hh9o9IZ_QJ9eIkyovPRCzAtVj4D906Dslt4Q_wP~vt8QP0f0I0US~lLw8eGmetiDjPMdXuzQAePnOSM3N~XUnC7AZf~N6iv4GQMLqgHeexegWUINLYNkpQUTWzcEg1NzEonY9ud7Ah4COdfmxipB2GvSCDda5G_hyJFtYeDayH95lS4ZCzrRTwNTJeWtQKTzGFXkmH5pN6LpFQbqQa2lWM8hOOaVNh4_YC7csyqI7GXE9rVNLeOyyk-.jpg
//media.inmobalia.com/imgV1/B8vEv5Xh8DZJ8zA8HsKlVQQovHvPS2nS1REiasNjjf37J7WfKOkiQxSIhRrnU2OBFkknCXNFUkYS7Hh9o9IZ_QJ9eIkyovPRCzAtVjcL9EaL8d43DbPVvcmrBuyx7WpZC0sLfN_XBSkjiXoNULpgD1w_3Kiagc_~a6JwqjccdhooxFyLcBmhHROaRFCp1pumlxofAOZa7qe_meeFOyzd0OL2wM9oV1BbnhRX2snRiMxEWgk2YXBNOTdngJCNtXRs0BLjwEu9YEakZXhRr2xon0y2SWSt8g7s0ygvgmSdi5zP4Q9XrmJ2d9Gi2vmpRPXKGLE-.jpg
//media.inmobalia.com/imgV1/B8vEv5Xh8DZJ8zA8HsKlVQQovHvPS2nS1REiasNjjf37J7WfKOkiQxSIhRrnU2OBFkknCXNFUkYS7Hh9o9IZ_QJ9eIkyovPRCzAtVj4BvoA2WvRB4hMk7wXIdg1ysZ7HXZC7eBb3M94CEHaW9m0HPZxIgy8Is8yEDmxh70PG~po5DE1kSl8wHI0BX44rb1XFgzVNjItZUKCTWC0BnOc~n2rzD7w8fBZ83yB12vfSuBhQOGWSdQhijVBHkXTl1pTfpk5JkZt_ddEeqgL2P5qwOkda2m5zjdmg5AKJyRt1d9zNYKYhW9qnYSFF6e1sQhio3ac-.jpg
Price

2.350.000 €

Ref.

5044

bedrooms

4

bathrooms

4

Built

462 m²

Plot

2.209 m²
Villa in Nagüeles, Marbella Golden Mile
Villa for sale in Nagüeles, Marbella with 4 bedrooms, 4 bathrooms, 1 toilet and with orientation south, with private swimming pool, private garage and private garden. Regarding property dimensions, it has 462 m² built, 2,209 m² plot, 367 m² interior and 95 m² terrace. Has the following facilities air conditioning, underfloor cooling system, brand new, recently renovated/refurbished, open plan kitchen, kitchen equipped, solarium, dining room, living room, double glazing, mountain view, pool view, garden view, sea view, close to sea/beach, close to town and close to schools.
Features
Close to town
Close to schools
Solarium
Double glazing
Brand new
Dining room
Kitchen equipped
Living room
Sea view
Mountain view
Air conditioning
Garden view
Pool view
Close to Sea/Beach
Open plan kitchen
Recently Renovated/Refurbished
Underfloor cooling system
Similar Properties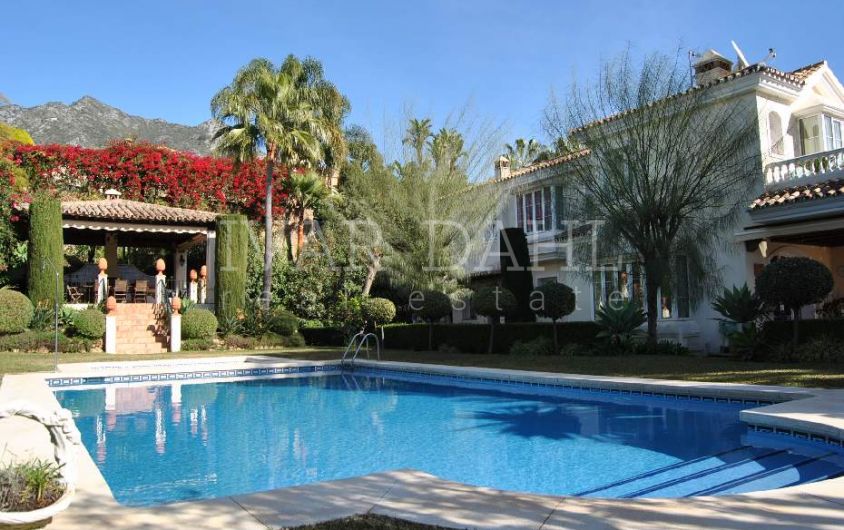 Elegant villa with sea views in Urb. Sierra Blanca, Marbella. Urbanization has 24-hour security. The Property is accessible from a wide driveway leading to a large carport and garage for 7 cars in total. It ...
6

bedrooms

6

bathrooms

1.058m²

built

2.357m²

plot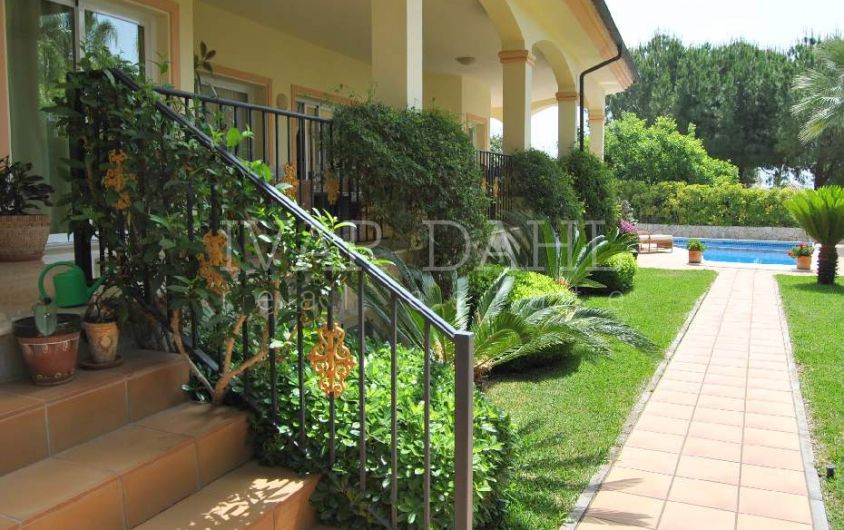 A beautiful South facing villa situated in a gated urbanization, 24-hours of security. Park like community gardens with paddle tennis and small children´s play ground. The Villa consists of entrance hall, ...
5

bedrooms

5

bathrooms

540m²

built

1.042m²

plot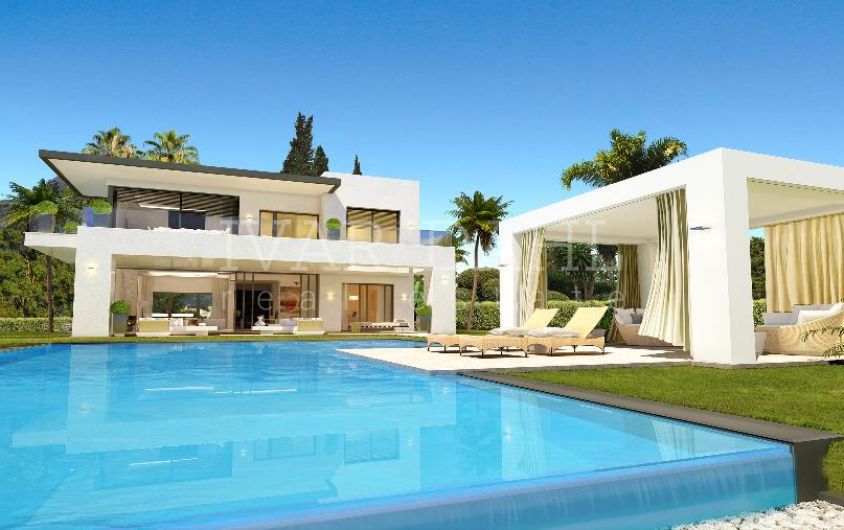 Just off the palm-lined Golden Mile of Marbella, an exclusive community of luxurious villas is being created that combines the best of prime setting, exceptional style and modern luxuries.Situated in a premium ...
4

bedrooms

4

bathrooms

497m²

built

1.000m²

plot