Villa with large tropical garden for sale in Nagueles in Marbella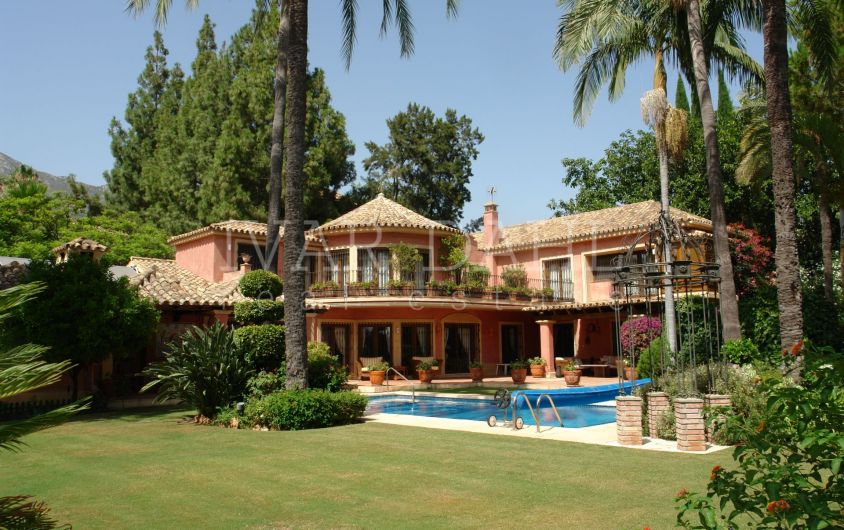 //media.inmobalia.com/imgV1/B8vEv5Xh8DZJ8zA8HsKlVQQovHvPS2nS1REiasNjjf37J7WfKOkiQxSIhRrnU2OBFkknCXNFUkYS7Hh9o9IZ_QJ9eIkyovPRCzWAQab1yAjsv0J_A~dMtGcrIleb1ztepROa64_XmVV_~UbCZ_SJO5ZRGT1gUoqJ6Ye4hbrW9rl7wBZYK793lexDxC6PKHyK3Nj6fp5cFuW9EiPbCPVUwV9xF~bJWOA44blixl0vSM8PqhefTKpwAzCbvuuLauSzYRRzMKjMxuZrVQPkP0eJHcDk0egZKFu9N6VD2OrHuNs~UMQwMCwwie5g0Ekvkd4OfZI-.jpg
//media.inmobalia.com/imgV1/B8vEv5Xh8DZJ8zA8HsKlVQQovHvPS2nS1REiasNjjf37J7WfKOkiQxSIhRrnU2OBFkknCXNFUkYS7Hh9o9IZ_QJ9eIkyovPRCzWAQfSkaE308dJDj6gTFH6fzkzecqtfYX_u3o5dZfOqxpX9fWd680GcsLqO7UJruseAk_I4EcZd2uTeNTe2BT6WYOm_99QPbf~iXPSodxD_HBtR8ChdOqzXgqxt7ORiJ8wBEZ3mzfb0a~pV8VDD_k3us_0gkwl9j2uYrlWooKXMmd3~RYwu68AGj4ChMNi4m1AWV0EYiCYfMt9_iXZZvBawsC8LzOKmILw-.jpg
//media.inmobalia.com/imgV1/B8vEv5Xh8DZJ8zA8HsKlVQQovHvPS2nS1REiasNjjf37J7WfKOkiQxSIhRrnU2OBFkknCXNFUkYS7Hh9o9IZ_QJ9eIkyovPRCzWAQafGqcSP6I2hTgefu1Bhiv7tRJiTikNLjEzCiIzzG2RQiZaSVXJAf4HT_1XLWGp~9Og7tvLmrEBB8gCmj5VKoMHOCWuNdTj70lMs6k4iIBgJsnUznwrgb_GuRTfUIUOP1AI2uyaiBIuNC_Fjl3kxINE7W4~aTGlyfw_Je0aKu7AUm5fq_~z3kkvvTK4IQPLBRmlJn59nLtyYYtH0sSH6SqGtENYF0Io-.jpg
//media.inmobalia.com/imgV1/B8vEv5Xh8DZJ8zA8HsKlVQQovHvPS2nS1REiasNjjf37J7WfKOkiQxSIhRrnU2OBFkknCXNFUkYS7Hh9o9IZ_QJ9eIkyovPRCzWAQa0GhZm0R7r5XW8rqeXQtviICA4FM2CIn5g90KghDOM21Ayyh4A56EPCXU4DjQ8TrBeUCrMwW6mJ2PMJAqdQmX0BtRVyDjIdlIUBy_Zeuiigx76CA75gw1zHluOXS0~931NGl_aev5D69HWnK~lWalC12Vpjp~4B2t~P9u~Jjj_E6L3SH2ZMWeEN5u6KF~mKHriaHNcTHw3MePwjCL~Z49SrZrP2XXk-.jpg
//media.inmobalia.com/imgV1/B8vEv5Xh8DZJ8zA8HsKlVQQovHvPS2nS1REiasNjjf37J7WfKOkiQxSIhRrnU2OBFkknCXNFUkYS7Hh9o9IZ_QJ9eIkyovPRCzWAQaHR~0fpaBcPJznyj3UZ9DzGR~j3dQ4M_LSDTh79g_kAsJDLvfZR6_4NtK36seG7oCc7nmoWiIeY5l2BxiyjFW7vv7VFHpYHq_bXdOoR~BSpCFMBRgW7h~Ocgh0eoGCrmqRRRx3ve181miRcy1Z2bcPn_YIIxPyCkP_AxL~AJBM97PGtLGlWkeauVIvo9KkikSIxOW2prwnwBCg_00_KLedmKvNk11M-.jpg
//media.inmobalia.com/imgV1/B8vEv5Xh8DZJ8zA8HsKlVQQovHvPS2nS1REiasNjjf37J7WfKOkiQxSIhRrnU2OBFkknCXNFUkYS7Hh9o9IZ_QJ9eIkyovPRCzWAQaB1oGH69TsvSqAyf0W4mju1E3yUY3gV~d5AyR_p46s1uoxj_gosrtZwRt6qB29wIXtV~QtsMcq9H7lQbHFuj0SLNV7ISeetvZOpLsOjKrz2_cHKud6q8BMA336fCmq6VPiFDzTnwhe2Dkf1m3uD_KuxNt6_wR3QXxSmqltK4N~yJO93~57Bi4i0VbzY4eC70zwUZEz5gwZcpDq7sgnWS~SJc2Oiyvs-.jpg
//media.inmobalia.com/imgV1/B8vEv5Xh8DZJ8zA8HsKlVQQovHvPS2nS1REiasNjjf37J7WfKOkiQxSIhRrnU2OBFkknCXNFUkYS7Hh9o9IZ_QJ9eIkyovPRCzWAQfPqi9UBy0e8ZN9ZSQvquR3WqrVM~I_cs0kMBPaND3hDOY1ikgjgxssGzelnIdQWMzQdRNTx67Go1zN~xLlM5kai1s3kGc0UreGcWFZ3Vx6GR6dGoNJFDLltCV~A2io3qJDEU58RItMygdeNZ4eMdycox3BZCUrVve6hhTpm8lmNHzpoEGihTiFcvUd42Mhgb6KVcXLG2UtjTuYj9_WB7WrcTYuYKgY-.jpg
//media.inmobalia.com/imgV1/B8vEv5Xh8DZJ8zA8HsKlVQQovHvPS2nS1REiasNjjf37J7WfKOkiQxSIhRrnU2OBFkknCXNFUkYS7Hh9o9IZ_QJ9eIkyovPRCzWAQfT3Mp1ZL2iMJsyeE2Rmj4BoQoBqd2gQVGhxkvD9ySCp~WqhjjsL0Au~DTFKHI~i~rfmbLwWE44rxKF0EbehiYhF~_bxWpd6QHvNVfZTBE0ORh6_S2VC7c9hHfFwyCill8GrZUekwqa6diS2yLU8eepbhZaKxMhQeUjAXcY2qu0OWCyMM7GwNL1~WpI6tN433kcHXfczB3rQSH44vi8ZtALCBmW3OfQ-.jpg
//media.inmobalia.com/imgV1/B8vEv5Xh8DZJ8zA8HsKlVQQovHvPS2nS1REiasNjjf37J7WfKOkiQxSIhRrnU2OBFkknCXNFUkYS7Hh9o9IZ_QJ9eIkyovPRCzWAQaLMwGreYZuNjVcME_6G9OYn27_iQhOCFvsGnx6YAOu0wvyCBp5X9jOqAmKV1L3_RoJiE_bKjGcw6_TftLj4NTNRPGOeNfzAujNCwa2sj7F~NnURobElIHAKciiGixm0GctLmvsTfg9KeVvYd8t11_zJHcyYgveOhrBA5x6WoCdnhQ7ru6Ekhs8R~JgS95Vr_vYqpMmhZ4nmElROFsXdjJDRgJjfnuM-.jpg
//media.inmobalia.com/imgV1/B8vEv5Xh8DZJ8zA8HsKlVQQovHvPS2nS1REiasNjjf37J7WfKOkiQxSIhRrnU2OBFkknCXNFUkYS7Hh9o9IZ_QJ9eIkyovPRCzWAQfFz5nn7pOWbD3QsnhOsaxJxGqAZfmoEd63b1o29sLFZAWy8HbgPuw8ZtXaN7hUHHrqATNRe5vQRBY~uJ15rxaq5jdvh9VJmDFv6It4D~3kHNOPw7QZUotdhsNiSKggC8gkN3Mj2JCwH8dH91a1JNbXmdO0SMzw4yq8xYZOHpLdZQ18VrLWb48MyeDOp5l3SxuBiUzy59YJdmJhLVnGTgoLp7YKKCwc-.jpg
//media.inmobalia.com/imgV1/B8vEv5Xh8DZJ8zA8HsKlVQQovHvPS2nS1REiasNjjf37J7WfKOkiQxSIhRrnU2OBFkknCXNFUkYS7Hh9o9IZ_QJ9eIkyovPRCzWAQaLOYV80eP1evTS9xGs6si5JwNqzDHevGChxaPgWZr3F1AHSlkneI3itwURji87r8tVSCWmpIdw0uYw18Hv6BKD7CdqPZ5Nd9wZnne72Is7SbOu7rNgSl_fo7aJ~6crJvsz6_EEPXzu15VuS__7svIJgKO3oczJ~uUSzvZlm_zpqUkPpfA3NwfDosomYP1K0mpPZNcrmni4xGPnudt5NHtCnRG3uLf8-.jpg
//media.inmobalia.com/imgV1/B8vEv5Xh8DZJ8zA8HsKlVQQovHvPS2nS1REiasNjjf37J7WfKOkiQxSIhRrnU2OBFkknCXNFUkYS7Hh9o9IZ_QJ9eIkyovPRCzWAQfYkG3Dr6gVXiEssLCsG0~LXSI746Hci4UfvG_r5HpqczqwqTzBT2i8iu0CV~7xb_tAoW5taue~T9AhjnweLeVfD4rkTQEJMxyWSO2x4~uo5c61AjN5yRM1bZYUGqSIk4ulP4WBN2I8m6LeEQy032aGUhpRncyJ9LnOH6e~MG3tZi7FXNim1SXYAMMpAb5lyT8t_AziVlDfDNlNrvRlz225NseT6wfM-.jpg
//media.inmobalia.com/imgV1/B8vEv5Xh8DZJ8zA8HsKlVQQovHvPS2nS1REiasNjjf37J7WfKOkiQxSIhRrnU2OBFkknCXNFUkYS7Hh9o9IZ_QJ9eIkyovPRCzWAQaAkTY6JNhuJ05IxWRSmOl2TFczWct0woInzjW~hcNJY3nP0M41rb5tgoWLwOPWbdUH8U7ezyOmiwWJEq~aYdJazOpP3ysP~6OqFAGuY4gaIGphyRds20sQ8lztGDsiL5VYgNWhdHnQMbiYbYAA6cgV_lgwyuysKSIV_RalRzxskRkEA~_50oZb39xU0eZ7T1_644ukR7HA~sT21KNSS6l18jGETQZ0-.jpg
Price

2.995.000 €

Ref.

5053

bedrooms

5

bathrooms

5

Built

658 m²

Plot

3.564 m²
Villa in Nagüeles, Marbella Golden Mile
This classical villa is located in a quiet location of Marbellas Golden Mile in the established, residential urbanization Rocio de Nagueles.
A spacious entrance hall leads to the bright exclusive living area with separate dining area and with access to the terrace and to the garden. On the same level are the fully fitted kitchen with all electronic devices, two ensuite bedrooms, TV-room, library and guest-WC.
A stylish staircase leads to the first floor. It features the master bedroom suite with sea views and access to the large Southwest terrace and walk-in wardrobe. Two further ensuite bedrooms, one with access to the Southwest terrace and the other with own balcony are on the same level.
The property has a dreamlike and well-maintained garden inspired by japanese style. The main planting consists of different types of palm trees, numerous cypreses, Japan cherry trees, almond trees, damas de noche, bougainvillas, oleander etc.
Further characteristics are: Alarm, marble floors and marble bathrooms with elegant inlays, heated pool, central sound system, central gaz heating with simultaneous warm water processing, which could also be heated with solar cells, BBQ area.
Moreover, the property features apart from the main house a staff house with 2 bedrooms and 1 bathroom, laundry and a room for garden tools. There is a double garage with internal access to the villa and further parking possibilities on the plot.
Features
Close to town
Close to port
Close to schools
Utility room
Pets allowed
Fireplace
Marble floors
Storage room
Alarm
Dining room
Barbeque
Mountainside
Guest toilet
Private terrace
Kitchen equipped
Living room
Separate apartment
Sea view
Mountain view
Heated pool
Laundry room
Covered terrace
Fitted wardrobes
Garden view
Pool view
Central heating
Unfurnished
Close to Sea/Beach
Close to Golf
Uncovered terrace
Separate dining room
Balcony
Good condition
Similar Properties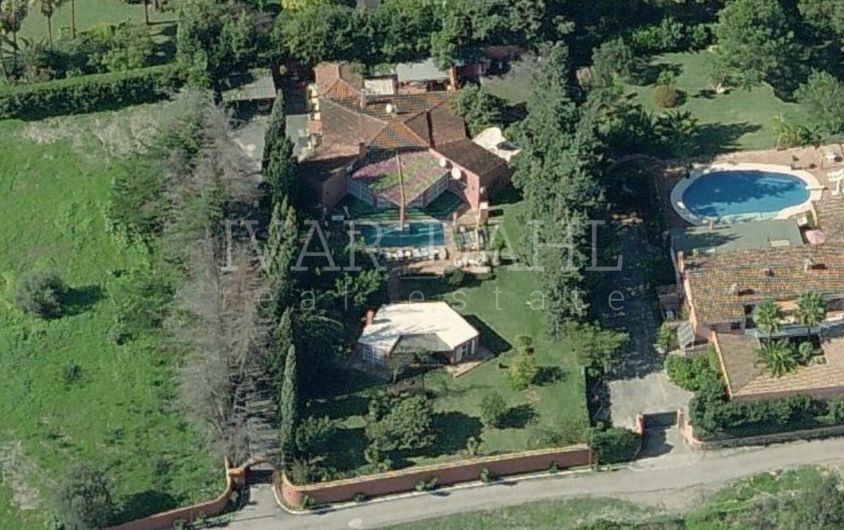 Villa to renovate on The Golden Mile, MarbellaQuiet area.Spectacular location in the heart of the golden mile:only 5 minute walk to beach, 4 minute drive to puerto banus, on a huge plot.The property is ...
7

bedrooms

7

bathrooms

481m²

built

2.532m²

plot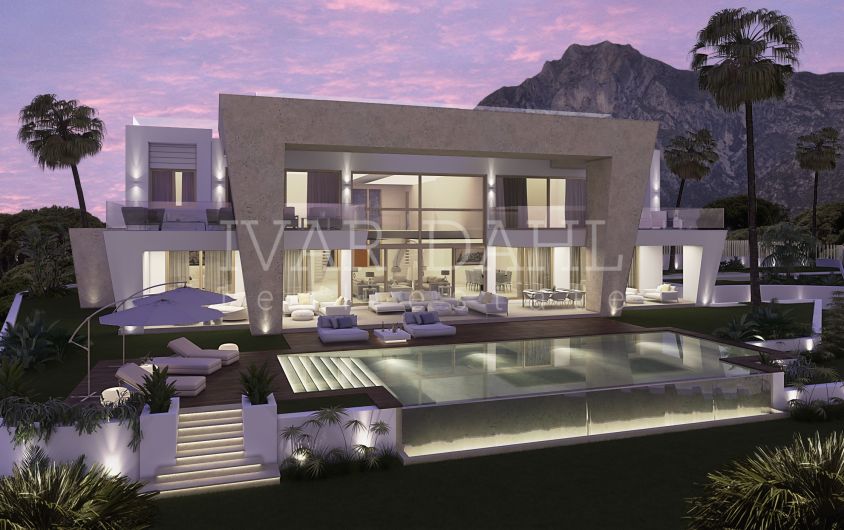 Modern, contemporary style Villa under construction in Urb. Sierra Blanca, Marbella. The property will be built to highest standard. Plot 2296m2. Built 1080m2, terraces 195m2, sunroof 581m2, air ...
5

bedrooms

7

bathrooms

1.080m²

built

2.296m²

plot
Villa in Golden Mile, Marbella, with beautiful sea views. Situated within a gated community with 24 h security. Very near Marbella center and beach. A short drive away from Puerto Banus. 4 bedrooms, 4 ...
4

bedrooms

4

bathrooms

470m²

built

1.186m²

plot