New modern apartments and penthouses with sea views for sale
//media.inmobalia.com/imgV1/B8vEv5Xh8DZJ8zA8HsKlVQQovHvPS2nS1REiasNjjf37J7WfKOkiQxSIhRrnU2OBFkknCXNFUkYS7Hh9o9IZ_QJ9eIkyovPRCQ5KKLOEVHXOR3DqJEC_ubXqUStskvwHHRZH6ZyOazoQ7ubiDKPA2fSvqL29oFc0zN3uI9TMz6kr4bCRTi8iB819Rpa_c7jju6Ca8T~ofk~q3_vypT3~T0wl5J3lnZTVDZ2CK2BWC7P7PExJLVCsKpyRNVzyj2_4xDWC8ibl6NsIUb_~Qd9OSRO05f1nvhrvPFkrGIgRvXZVBcY4EUmmvFMdGcGx9GmdUIo-.jpg
//media.inmobalia.com/imgV1/B8vEv5Xh8DZJ8zA8HsKlVQQovHvPS2nS1REiasNjjf37J7WfKOkiQxSIhRrnU2OBFkknCXNFUkYS7Hh9o9IZ_QJ9eIkyovPRCQ5KKL0Yt2D_DB6pkgqGHJp9mXx7NrSjv1MxGNM2WhRTFZpzVit8rCe5FqfaDwKkQpWtdzqr0ut6WFDZZW15ogoWdCXIj3KY0ripA_eC3x9wRnH4Znp_jPCnJKd6~rvvSXtYdQpu8GoJVfAuak7yiEhABimpvqhm2omXcL4FwNtEbeVbNBYcgI7BryhMjGi_mOTA3yuTaq3LbKxgYoaL9ytdg0qkt_xeQlg-.jpg
//media.inmobalia.com/imgV1/B8vEv5Xh8DZJ8zA8HsKlVQQovHvPS2nS1REiasNjjf37J7WfKOkiQxSIhRrnU2OBFkknCXNFUkYS7Hh9o9IZ_QJ9eIkyovPRCQ5KKLiKT3BXIenVDXxnav_DYQM3oBz0LfEYRdyRxH4NIl6aq1Wo0eM9JNf3RFCYN6pHtKviL9qRPAQUxEw1Sq7GTQSRvj5HWS2KVNjJSGsBgM9fvR2cKTbMrAIPPavBEkQGPlRHDuULoZ8fKtrPSCUmgLCAz3ENxV0FAkTuf4QXEz5KbCJ3F8ViQZsmrUbuoLizdNX3RmFDYA~sqCkZCmQJICpGl222tL0-.jpg
//media.inmobalia.com/imgV1/B8vEv5Xh8DZJ8zA8HsKlVQQovHvPS2nS1REiasNjjf37J7WfKOkiQxSIhRrnU2OBFkknCXNFUkYS7Hh9o9IZ_QJ9eIkyovPRCQ5KKLqE0GY6wR7wMiYSLH0~Vv8lObGbwfprXoRtwWxYEmGQMxR39bdcxUhFBAjRhb5FVFM2GvawNc1hJt6ITlhGMtzvioP_ztNU3LK5cps5A~g3Hb1LccKn8IokDQ6IP7VaNkT4g9Tw0MjWPs5fWZ6Z7LLXix1PPN2l2T_O3LJLvkYfxWOl3~CejCtd0eVOFWARSzDKuVA8vX4Y~VbLervrSgr~Kt_VM1Q-.jpg
//media.inmobalia.com/imgV1/B8vEv5Xh8DZJ8zA8HsKlVQQovHvPS2nS1REiasNjjf37J7WfKOkiQxSIhRrnU2OBFkknCXNFUkYS7Hh9o9IZ_QJ9eIkyovPRCQ5KKLseY0Ng4kL4zPSfyyJIHVhQz7Wjv4g5mkzn4lx3o5Bj_qBD0sOoerUubi7T0Q7JxuGCaJNmYyQS7omr2GaDOhg8lK4X38bOGgeStMUuR6mzpx4FindBRzpyrKi92pzCJP42wKsx09KNy8KsdotIGG3i7zmufPKKCN5bNdESW5ZfbmJhrN1rgwf70~EXY_ufOnHZ5IOXIuQr_FGlA0h2X~bVmBPocGQ-.jpg
//media.inmobalia.com/imgV1/B8vEv5Xh8DZJ8zA8HsKlVQQovHvPS2nS1REiasNjjf37J7WfKOkiQxSIhRrnU2OBFkknCXNFUkYS7Hh9o9IZ_QJ9eIkyovPRCQ5KKLk~LKKqoVKGYRhiYFIt8WnHtVvUPU5CKN2cutEqfx1s9Je8KxaQKThOrF4uaDzO9_JuHDFt_cIovbua4hxCCT~peber0bOIDW6r9MYfkLOkxF3EF7ZzEuwVCd2Y2DhOU6_cMGrjO6TPGPmXycA3rMYzo4GjRmko8aujl59fEguir_fL4LQGsnrz7tgtZdF7P36sedTPMaTWZolODbsEP4BekwEYrKg-.jpg
//media.inmobalia.com/imgV1/B8vEv5Xh8DZJ8zA8HsKlVQQovHvPS2nS1REiasNjjf37J7WfKOkiQxSIhRrnU2OBFkknCXNFUkYS7Hh9o9IZ_QJ9eIkyovPRCQ5KKO5XlPrf502qePfWnhh3J8UxSmz0owPO2RD7FYcUk34TGe2oEIQSuuuwM9RLbgaIx~6WoS84JEZOeZjf_Xik2I~S3JH2N~ad04UG5wGOVY_pBIatHfyqbMSrW4H8vJN9qsd8avktIzxi8yhTFAj5WdnwCZHpovIL5JnQs9QvW7f6F7tb4TyLZH_0H5MoABrLq2cHld5Dc03QI_VyZPabhyNxGmr5_7M-.jpg
//media.inmobalia.com/imgV1/B8vEv5Xh8DZJ8zA8HsKlVQQovHvPS2nS1REiasNjjf37J7WfKOkiQxSIhRrnU2OBFkknCXNFUkYS7Hh9o9IZ_QJ9eIkyovPRCQ5KKO4GArINFYQeNomxDYHiT32TyqsLCccKqdzO5HTGFtGs_Ar2_GKlFqBUM8Tb~ozFl2fg4O88kfX47EGgUMMSav9NYou~iJ7v_mlJizTolQUsP2o5K82wa~Bxo8oYfHim_iNUBjimRhNtmgXLYDgSru0_iDhThliEkPOnuBtIR17mlqi9yGKqr~prj0HNdmKqw~_vFWg1fBkOhCGJ5yXs~B5jdesDiBw-.jpg
Price

480.000 €

Ref.

5079

bedrooms

3

bathrooms

2

Built

312 m²
Penthouse in Estepona
Penthouse for sale in Estepona with 3 bedrooms, 2 bathrooms and with orientation south, with communal swimming pool, private garage and communal garden. Regarding property dimensions, it has 312 m² built, 142.55 m² interior and 165.9 m² terrace. Has the following facilities air conditioning, brand new, fully fitted kitchen, fitted wardrobes, lift, gym, private terrace, dining room, living room, utility room, gated community, double glazing, street view, mountain view, pool view, garden view, sea view, panoramic view, close to town, close to schools, amenities near, close to shops and transport near.
Estepona, new modern apartments and penthouses with sea views for sale. New inspirational new boutique project of elegant and spacious apartments and penthouses located in an elevated position in the heart of Estepona with spectacular sea views. PHASE ONE composed of 47 units almost sold and PHASE TWO of 36 units will be released shortly.
Ideally located a few minutes walk from the town centre and with easy access in all directions. Malaga International airport is only an hour drive and Gibraltar Airport 30 minutes away. Puerto Banus and Marbella are a little more than 20 minutes by car.
This is the perfect choice for those who are looking for quality cosmopolitan living close to all facilities and services. An ideal second home or all year round residence.
Avant-garde and elegant in design these properties transcends the boundaries of traditional architecture to offer a new lifestyle concept in Urban living by combining top quality materials with bold new inspirational designs, large bright living spaces fluidly connected to over sized terraces with unbeatable sea views over the town to Gibraltar and the North African coastline.
Beautifully designed living areas connected to large terraces with spectacular views over the gardens and from the penthouses lovely sea views. Italian designed kitchens with top appliances, oversized floor tiles, master bedrooms with onsuite bathrooms. Modern and elegant in design taking full advantage of the natural light and surrounding scenery.
Features
Fully fitted kitchen
Close to shops
Close to town
Close to schools
Utility room
Gym
Double glazing
Brand new
Dining room
Private terrace
Living room
Amenities near
Sea view
Mountain view
Transport near
Fitted wardrobes
Gated community
Air conditioning
Lift
Garden view
Pool view
Panoramic view
Street view
Similar Properties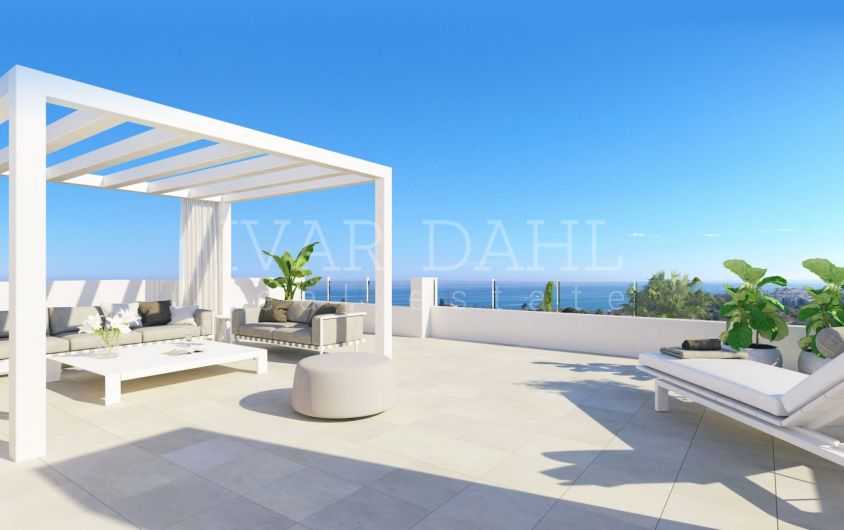 Sea views. In walking distance to shops and beach. New stunning boutique development of 48 contemporary apartments located in a sought after Estepona address, one of the most desirable areas on the Costa del ...
3

bedrooms

2

bathrooms

258m²

built

144m²

terrace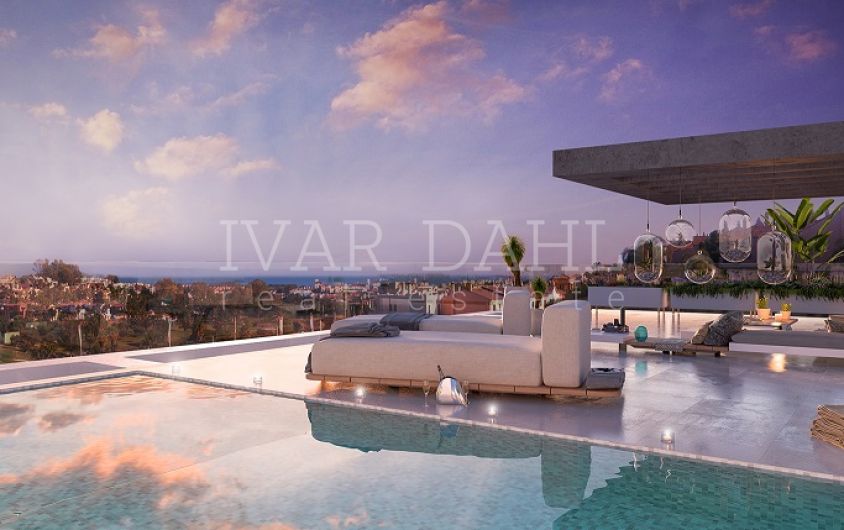 Penthouse for sale in El Campanario, Estepona with 2 bedrooms, 2 bathrooms and with orientation south/east, with communal swimming pool, private garage and communal garden. Regarding property dimensions, it ...
2

bedrooms

2

bathrooms

205m²

built

119m²

terrace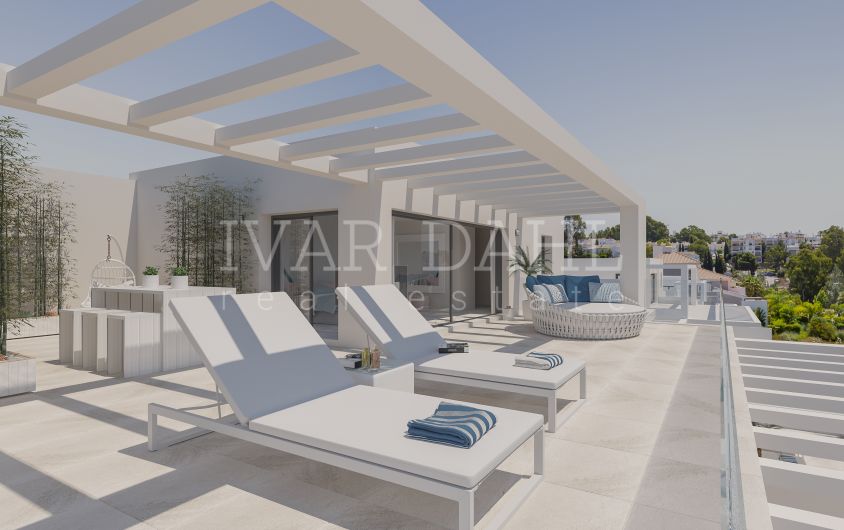 New modern, contemporary, apartments and penthouses in golf area of Estepona. A new Real Estate Development of 64 apartments of modern and exclusive design, located in the area of Estepona, adjacent to ...
2

bedrooms

2

bathrooms

191m²

built

96m²

terrace