Apartment with sea views for sale in Jardines del Principe, Marbella Golden Mile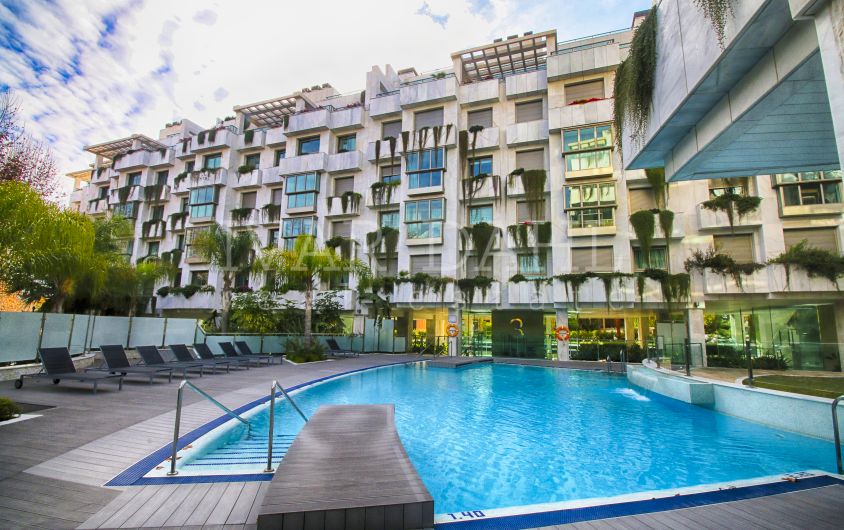 //media.inmobalia.com/imgV1/B8vEv5Xh8DZJ8zA8HsKlVQQovHvPS2nS1REiasNjjf37J7WfKOkiQxSIhRrnU2OBFkknCXNFUkYS7Hh9o9IZ_QJ9eIkyovPSedue3BgHk~wrSJnrXNtlEjzOZLZDVb72rjURveCYJGZR7j7NgHtRROcqYVHxC6adAAMPnh42THFM0~5cokQEWXzAafCQE9v5Tl5GjyaYYFovg5EvTgPeou97Nj0NwaL7lN3PndRAgxOMpG2yJ2smrj37SgGD0VcqBkDrmpaHWlmY3DbgdKX8QGtHKB4mW_QN0oJnl8u1lR7lV29d4Fc6X4u7k9SxHoviT8w-.png
//media.inmobalia.com/imgV1/B8vEv5Xh8DZJ8zA8HsKlVQQovHvPS2nS1REiasNjjf37J7WfKOkiQxSIhRrnU2OBFkknCXNFUkYS7Hh9o9IZ_QJ9eIkyovPSedue3EzRpjQYRmApZ5GugIHa91oc~gKiqon~091GT4fvQhAoSEhGZBkU3FSCeJzT27fRnoXjkUgf8qUZ6EhkRxgWeLhX0I9j53wdYeV8d9qjcfzwM_7oBv2q5nrs_5MtrotT7VWLpfEpGY5LgGouMf_QfJWG14WNAxQE8EJcFPa1cIc68pOcFtpVBAYrfz~cYIIQDcu4tL7DMMSCx4jdMoQRJ_bsym5HPkk-.png
//media.inmobalia.com/imgV1/B8vEv5Xh8DZJ8zA8HsKlVQQovHvPS2nS1REiasNjjf37J7WfKOkiQxSIhRrnU2OBFkknCXNFUkYS7Hh9o9IZ_QJ9eIkyovPSedue3E4WYnH7r9N1jv_JdC_GFjyTXRLArh7~q9fcyVIHNQEBOAybIl7SWS8o7Z8Am6XjX_C0ElpwKn1xojGbxHoUGUUOozKyvHnNj6Mv9S7DCvtlUr66FeujffXJsFYco0C3YK8urNjqKe0OvRERrkOGozcDziWQq6y8YoIk13I15KAqldB5Ddm4YB4bekoYgb8ajGbBg_HbtXpx3_jKMKrXA7hFzs51VtE-.png
//media.inmobalia.com/imgV1/B8vEv5Xh8DZJ8zA8HsKlVQQovHvPS2nS1REiasNjjf37J7WfKOkiQxSIhRrnU2OBFkknCXNFUkYS7Hh9o9IZ_QJ9eIkyovPSedue3B1ff5dn10EncdCfk_IT1B3~LXX8Qi7VBO1m2RBqbhHCXTCBEfXBi0MUbheIktQ~vTmSQ~vBTXvmaoryw5mQAQEjQCedD00D2fMrEB3qEFhDnQ4jSVhV6eapmO3RFdUFOyXOKu1l0I~qha8b1o2jGPZh0TpQkbYbCVMfdPoOVYZ3kK85meni4uMOvDawtykn9o1JsrZel8Y0KJKf6Guwtk1hNcNBBIU-.png
//media.inmobalia.com/imgV1/B8vEv5Xh8DZJ8zA8HsKlVQQovHvPS2nS1REiasNjjf37J7WfKOkiQxSIhRrnU2OBFkknCXNFUkYS7Hh9o9IZ_QJ9eIkyovPSedue3BoFlPPaW3KwpiOetErG35q7OxN9ZntQunegP_pxnUw7lBihVV1GV0ypbK2ZKQ8Pckf47PYIrLDDF3_9WjrdCpkaSssLgbN0osoJdJklf2pso9lsN7mJWvc5fHSSSdwzok5CWHdG3NxM8IYsi4HH4pBFmpmbnfxiqoSyDS2GoJKwOf8TvdPhs3vanGEnpRMWmPpMGA14ppM4knJ0XW3MiZStq2gkVGE-.png
//media.inmobalia.com/imgV1/B8vEv5Xh8DZJ8zA8HsKlVQQovHvPS2nS1REiasNjjf37J7WfKOkiQxSIhRrnU2OBFkknCXNFUkYS7Hh9o9IZ_QJ9eIkyovPSedue3B43s6D71MT8olxzXyn3uEDaE~3v_za8FPz95xiz5pctH5JS5CfiEu063VMndBzGdONFvE81wctbFuiQ5UDHe4gDPqD~THK2k46RWzldK7skNLys7o0eNJo4am9ZCGjPlPVd4F94bptAM8Z230w38KWXr8i6Z~aYkCoXhUp_6~3WQLN904yH0r0hLpGUMp9CG4A_ZSp3ouk74jPK9sXCoU8d7HN9KJQ-.png
//media.inmobalia.com/imgV1/B8vEv5Xh8DZJ8zA8HsKlVQQovHvPS2nS1REiasNjjf37J7WfKOkiQxSIhRrnU2OBFkknCXNFUkYS7Hh9o9IZ_QJ9eIkyovPSedue3B8WJfmAng2HofiORA~FALLrHMqmMvKLWCr62aiRsk_HTFVczmjRoT_yGselC9P9wrq0vs2SR9GOFjQODngusnOw__PgNWiuXHmJ_x0JTMZ4R6ZjgLKp4s3qAnclpHduh3tceo2IN1wZjIF~ESq3UB_iLeSZ_xs9qO0p3cRejIumlcPI2~ZQYKDGt0YBnmMxq55YdisfiJ95iR6dkK1xZfjnf_Pxz1k-.png
//media.inmobalia.com/imgV1/B8vEv5Xh8DZJ8zA8HsKlVQQovHvPS2nS1REiasNjjf37J7WfKOkiQxSIhRrnU2OBFkknCXNFUkYS7Hh9o9IZ_QJ9eIkyovPSedue3EnkvRoLoY1WTEGMvF~4qfGeLe~oGnJLPRa6KVe3U2oH9hqAfCWsFzVF0PTKz3Dfn9xmb~BLfecmSULD7UE7iU_~znztwjdri_TKrvl8faMN8wupqQU8cyo15fJ0_pW1zDm4hCEQ~p3iUncOwQ7_RAB7xhUpupHI~RdDsiU0BKkYypaggbpfM5cMucp9Djs9p8eRvED9PUYPDPQId4LrbQQtb4fasso-.png
//media.inmobalia.com/imgV1/B8vEv5Xh8DZJ8zA8HsKlVQQovHvPS2nS1REiasNjjf37J7WfKOkiQxSIhRrnU2OBFkknCXNFUkYS7Hh9o9IZ_QJ9eIkyovPSedue3BoI_qBoiHNrDqUww4WLKBka9hZrudIM7FKJkKRgRjS53~RSYIPcMVWc_98szRzFidYRRjNJd_8xZ5Be3oTus3Qi_sSu9xpSePN5bIe~VkOdkppz40wzbv6l0dKKQv6REjbwbfxqdUHNHS2dsUFa2_gY8AUexUks3wrnOKuvuGQTpmLSlU3uPG1RoOWO_4U847IPsMa5PWkudQxaIpCYskf~1jvZD20-.png
//media.inmobalia.com/imgV1/B8vEv5Xh8DZJ8zA8HsKlVQQovHvPS2nS1REiasNjjf37J7WfKOkiQxSIhRrnU2OBFkknCXNFUkYS7Hh9o9IZ_QJ9eIkyovPSedue3B0Op3yT4RnHCZec9dm2C6wlrpA6MB~A0ceOsdR51tUzXAqohp8Eu12Eb3EeMwQ1SdO36FDCXBMC5NtdSjogXXoJQIOzcDYmla4040XNnq6UGlo6x0ofDlguWVs4SzT0IvgLRCkJc9xXYEm7SIymejdEK7Lsj9Hdc9mOSnIdyjvGqJjfPtwn0C5BGJE_k8wR~8u9INV3vCH1nCY5_l9AtygSO8B0yPY-.png
//media.inmobalia.com/imgV1/B8vEv5Xh8DZJ8zA8HsKlVQQovHvPS2nS1REiasNjjf37J7WfKOkiQxSIhRrnU2OBFkknCXNFUkYS7Hh9o9IZ_QJ9eIkyovPSedue3ErK6PEc90Y8pvlgQbzWLyuF9jcMGC1gZsyGgWPvC0QHgVW85o9Q1OwL077dtImJ6Ns~dZt95sZLR7TGOKKkj0Pay5Byk_s_N5SnzpeCmRqob1DS3JX4doGun5jXPyonN89F8n3j0kWZ27zIHYbT0XUajrfEqg__whSr6QQRSIoOjnrVTbJI~3nT9~9fhaPxI_Kkje~_gYLyDTVi_e58msr3V3zozzM-.png
//media.inmobalia.com/imgV1/B8vEv5Xh8DZJ8zA8HsKlVQQovHvPS2nS1REiasNjjf37J7WfKOkiQxSIhRrnU2OBFkknCXNFUkYS7Hh9o9IZ_QJ9eIkyovPSedue3E4X1fQMj9ItzY2E73s~fi4z0bC2SPhdMzJHnhUGfn9FcHsqUmcQY1OyKlGcRdBgFH6ihUEaUFXrX6sOy3UHm_GnZL20LerbQyLBv2KTIcERL~CmTUjtG37uYWbBkis~eixRuTSack4Qp~LVy5DPWynZ_SKFr5jnVO30l3LsydUz1HS9n1omFJcNCOaD42xS0c0liTaCv~7kWgOcHcwrw3Fdpcn70TA-.png
//media.inmobalia.com/imgV1/B8vEv5Xh8DZJ8zA8HsKlVQQovHvPS2nS1REiasNjjf37J7WfKOkiQxSIhRrnU2OBFkknCXNFUkYS7Hh9o9IZ_QJ9eIkyovPSedue3B9GoRcQ1zBV30MZ8xMrffjY2VP7u1Wj6hTnUqcXG_huLagW_Yisw0It5lJjTo6ZFq7_bDpoYXFzXnfo44DsMRz9jDzKkRXrNViJFuAdrYOrOSsdrmb9foIci~AmSNc~ZyQNI6LQvV7m_fxOOvaJPaZklIYWNuWkYbwvIxZJwMc_cj3mYtOQ1EIiR_yUN4ZdYmJ6hR5X9YwuWZyvS0w1PpjSlo6xDdA-.png
//media.inmobalia.com/imgV1/B8vEv5Xh8DZJ8zA8HsKlVQQovHvPS2nS1REiasNjjf37J7WfKOkiQxSIhRrnU2OBFkknCXNFUkYS7Hh9o9IZ_QJ9eIkyovPSedue3EqZwCJzar65pUdS6lH7IP8Swnz3EFf2L2HsK~t_Am8cJQt0rOoTfPxqvBLY3fH2dZCcANp9hcA3GPUuV3c_EUdCfRrcx3B2c4CwhbpO2qe~AD5eXHWCQJpAa1kRba5YPG0xOhMrKmhSin95HrHqcLKZzcq__TWOgW8YpoZqrQALCzAfBen4ZESwtH__TuXp7PANZNugzOmv4uRJ9zcYMxYWSKU4zlE-.jpg
//media.inmobalia.com/imgV1/B8vEv5Xh8DZJ8zA8HsKlVQQovHvPS2nS1REiasNjjf37J7WfKOkiQxSIhRrnU2OBFkknCXNFUkYS7Hh9o9IZ_QJ9eIkyovPSedue3Bc4QA~eNVS2EwiH4Tn8oQY5NTHSkl37COf6IlYLD1MyIfSxFKUW0H~PPjkQju6n18CDOgeuJnIQ1yG6tRCxrjZox8_zgkmlQb_addeh41wDKS_w39yMOhq3nnovmmAYjneNk_0TYoj1KrGvzF85K51o~mfRduOpbQJ5SBLA4CQxiNiI_idzf3wmGCszdE4xfSmcIf1LICckuEGE2D~uoAa8HK1bo6I-.jpg
Price 775.000 €

Reduced from 850.000 €

Ref.

5117

bedrooms

2

bathrooms

2

Built

163 m²
Apartment in Jardines del Principe, Marbella Golden Mile
This beautiful apartment is located in one of the most exclusive areas of the Marbella Golden Mile, in an area of 6,500 m2 of tropical gardens in the city center, only minutes from the seafront. In fact its location is superb – strategically located 10 minutes drive from the famous Puerto Banus and just minutes walking from the 5-star deluxe Melia Don Pepe Hotel.
The communal swimming pool is set amongst landscaped tropical gardens and as this is a purely residential complex with no commercial premises, it therefore ensures the maximum welfare of their owners, and is complete with 24 hour security and surveillance systems.
These spacious and luxurious apartments are built to the highest specifications. They are delivered complete with air conditioning units (hot and cold), double glazing, pre-installation of a centralized music system, high quality marble floors throughout, electric blinds, and solid oak wood interior doors and wardrobes. The master bathroom has whirlpool tub and all the bathrooms have under-floor heating with thermostat control. The large covered terraces are fitted with electric awnings and the apartment is fitted with a central vacuum system. The kitchens are fully equipped with Miele appliances. A computerized home automation system allows owners to remotely control many of the appliances including the blinds and air-conditioning.
Features
Fully fitted kitchen
Close to shops
Close to town
Close to schools
Surveillance cameras
Utility room
Gym
Alarm
Security entrance
Double glazing
Dining room
Security service 24h
Private terrace
Living room
Parquet floors
Amenities near
Sea view
Mountain view
Security shutters
Transport near
Covered terrace
Electric blinds
Fitted wardrobes
Gated community
Air conditioning
Lift
Garden view
Pool view
Street view
Doorman
Underfloor heating (bathrooms)
Unfurnished
Close to children playground
Close to Sea/Beach
Reduced mobility access
Excellent condition
Urban view
Similar Properties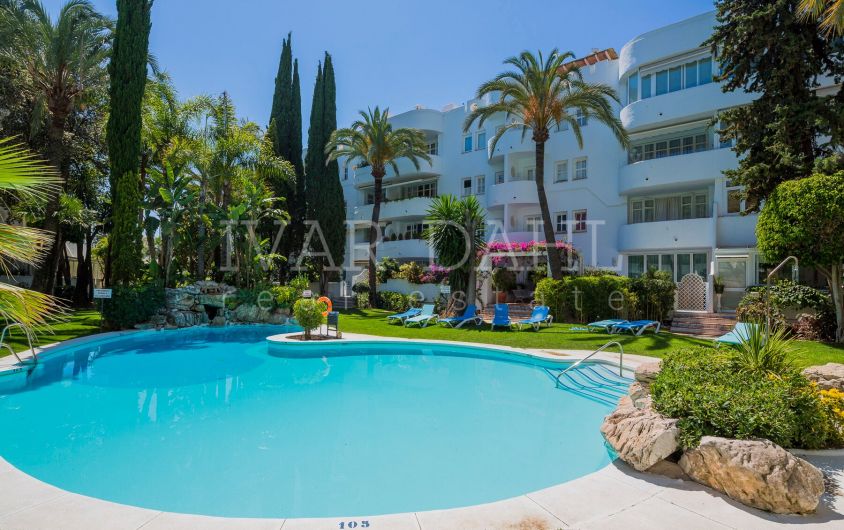 Top floor Apartment in Marbella Real, Golden Mile, Marbella. Lovely South facing 2 bedroom luminous top floor apartment with sun roof close to all services and the beach. The property comprises a bright ...
2

bedrooms

2

bathrooms

110m²

built

58m²

terrace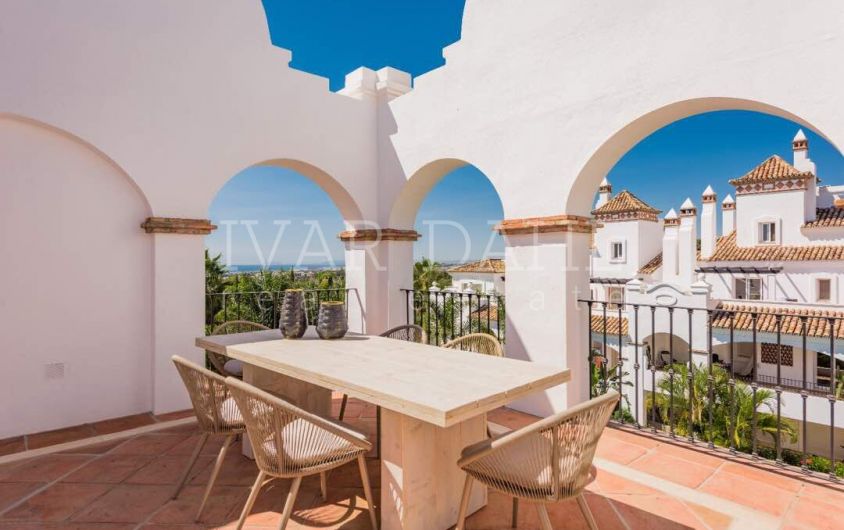 A privileged, unique spot from where you can enjoy unbeatable views to the Mediterranean, Africa and the Straits of Gibraltar. Contemporary, elegant style. This is a residential complex composed of sixty three ...
3

bedrooms

2

bathrooms

236m²

built

33m²

terrace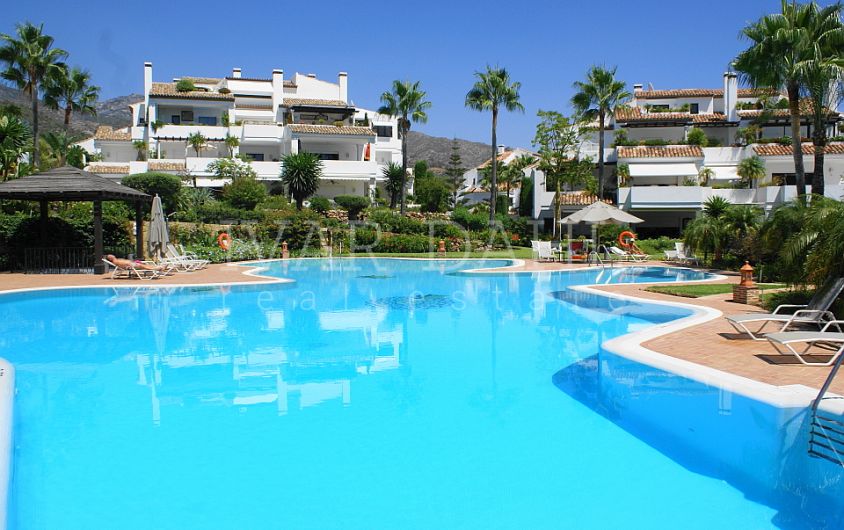 Apartment for sale in Monte Paraiso Country Club, Marbella with 3 bedrooms, 3 bathrooms and with orientation south, with communal swimming pool, private garage and communal garden. Regarding property ...
3

bedrooms

3

bathrooms

240m²

built

66m²

terrace